HackCWRU brings student inventors together for 36-hour marathon
Thirty-six hours, computer code, hardware and a lot of sweat don't make for a typical Valentine's Day weekend, but that was exactly how many Case Western Reserve University students spent this year's Feb. 12-14.
Friday, Feb. 12, marked the beginning of the CWRU Hacker Society's third annual HackCWRU, and saw teams of one to four high school or college students and alumni working speedily on projects ranging from a sonar safety system to virtual reality headsets to an app that lets you rent out driveway space. While normally spread over the quad, this year the competitors were also able to make use of two stories of the new Sears think[box] and all of the tools it came with.
Making use of these think[box] resources, fourth-year students Joshua Tang and Olga Eliseeva designed a heart shaped bulb they called the "Khalima Candle" for which the couple won the "Most Repurposed" award. The light flashes in sync with the heartbeat of the person holding it and was made using a heartbeat sensor and a microcontroller they coded.
Both passion and ingenuity were in the air. The two-man team of second-year students Andrew Dupuis and James Timotiwu designed an electronic medicine dispenser that could hold up to eight medicines and was controlled by a touch screen. The two hadn't met before the event and explained that the device included a customized time-controlled delay for each slot to avoid accidental overdoses. They won the Gaverick Memorial Award.
"We did most of this on a whim," said Timotiwu. "Even though we knew what we wanted to do, we gradually built each part. Once we're done with this part, [we said] okay, what's the next part?"
Not all students had a computer science focus. Molecular biology major Sid Sivakumar designed a genetic simulator called "ChromoSim" that could help teach children learning about genetics for the first time. Sivakumar explained that genetic simulations have existed and been used by researchers, but they were too complex for children.
"What I wanted to do was build a simulation that's visually appealing and easy to understand for someone who has no idea what is happening," Sivakumar said.
There were even students attempting to learn a completely new programming language. The "Best Project with a Beginner on the Team" award went to the one-person team of Mackenzie Kinzel for a game app, "Cookie Chaos." Kinzel had never used iOS software programming, but learned how to and made an app wherein the player taps on cookies that show up increasingly often, all within the 36-hour time span.
For those who aren't musically inclined but want to jam with their friends, "Air Band," designed by visiting Mickey McCargish and third-year students Jack Liddy and Ted Chen, comes with no strings attached. The app lets users shake their phone like a guitar or blow into it like a flute, and a nearby speaker emits the selected instrument's noises.
The "Undergraduate Student Government Most Helpful to Student Life" award went to Aron Gates, Istvan Gates and Zac Yu for "Geohunt," a Google Chrome extension that compares items already in apartments you're interested in renting to items you've bought, based on your financial transaction history. Those searching for apartments are likely interested in ones that have goods they have already bought.
High school students and alumni weren't eligible for awards, but two CWRU alumni made a device they will use for sure. Kate Hart and Ray Krajci, engaged and planning to marry this summer, modified a wedding dress and bow tie so that they light up blue. As they move closer to each other, both change to a bright red.
The device, "You Light up My Life," is a prototype for the one they plan to use at their wedding.
Leave a Comment
About the Contributor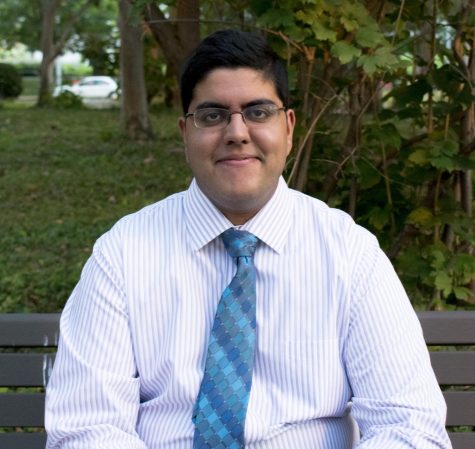 Kushagra Gupta, Director of Print
Kushagra Gupta is a cognitive science and biology student and is working towards a masters in medical physiology. He's served as The Observer's The Director...