Skipping a Generation
Earlier this year, Microsoft announced their latest version of the Windows operating system. In a surprising move, the company announce that the next version of the popular software would not be called Windows 9 but instead would be name Windows 10. At the announcement, Microsoft described their vision of a unified computing platform across phones, tablets, personal computers, and even their Xbox game console.
To this end, Microsoft revealed that Windows 10 will have a unified app store across all versions of the platform. For developers, this means that only one version of an application would have to made in order to support every platform that Windows can run on. Users, on the other hand can expect to have a consistent experience across all of their Windows devices.
In addition to creating a unified application experience, Microsoft is looking to include the same features across each platform. In a recent update to the desktop preview of Windows 10, Microsoft has enabled the functionality of the Cortana personal assistant previously only found Windows Phones. This software functions similarly to other personal assistants such as Apple's Siri or Google's Google Now by allowing users to use only their voice to search for information on their devices or on the internet. Although this is just the first of these features to reach the platform, Microsoft is planning on adding more features such as Xbox Live integration in order to bring the most features to all platforms.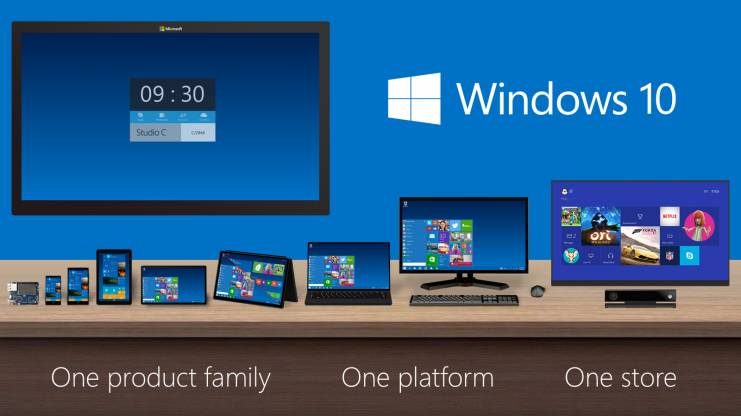 Because of the initial backlash to Windows 8's tablet focused design, Microsoft has included several features that desktop users have been asking for. Of these features, the most exciting for traditional Windows users is the return of the start menu. The new design of the start menu combines the features from the start screen found in Windows 8 and the start menu found in Windows 7 and prior versions. In addition, the full screen apps introduced in Windows 8 now are launched in a window like any other program on the operating system.
Several other new features are planned in order to improve general user experience. The ability to have multiple instances of the desktop, a feature present in other major operating systems like Mac OS X, has been present since the earliest preview builds. In another addition similar to contemporary operating systems, the ability to quickly view all open programs and files with the press of a button has also been added.
Although Microsoft has yet to announce a release date for Windows 10, it already looks like it is a worthy successor to the previous version.