The view from the other bar
Across the street and an empty parking lot from the Irish fandom kingdom, sits the Harry Buffalo, a bar filled with the University of Kentucky faithful.
Kentucky fans are dedicated. There are no teams from the NBA, NFL, NHL or MLB in the state so their state university fills the void. The fans are fanatic.
Before the bar clears out five minutes before tip off, it's full of Kentucky devotees waiting for the game. Here's some of the characters:
Mark: When prodded for a last name, Mark sternly replies Mark. He opens up a bit though when he begins to talk about his team. Mark Mark says he has travelled to all of Kentucky's NCAA Tournament games over the past five years. He put the odds at his two time alma mater beating ND at 98 percent.
Tina and Louis: Louis has lived in Lexington, Kentucky, the home of the University of Kentucky, for her whole life. Tina on the other hand now calls Cleveland home but lived in Lexington for over 15 years. Both are dressed in Kentucky jackets. Both are confident, pegging Kentucky's odds at 100 percent. They say that the university's games are treated like an NBA team and that "everything in Lexington is blue and white."
Steve and Kyle: Steve attended University of Kentucky, which he admits was "mainly for the basketball and football." Kyle on the other hand, didn't go there, but visited Steve frequently and "enjoyed the hell out of it". Steve was in the crowd for all but two home games this season and even attended four away games. He put Kentucky's odds at 50 percent so that he wouldn't jinx the game. Kyle set his at 80, but admitted if the team lost it would be his fault.
You almost blew it Kyle.
Leave a Comment
About the Writer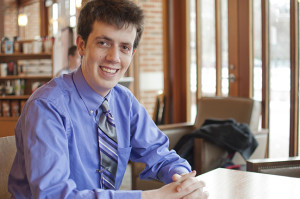 Mike McKenna, Executive Editor
Mike McKenna is a senior biology and psychology student currently serving as The Observer's Executive Editor, after spending last year in the Director...