UHCS, KSL team up to host relaxation sessions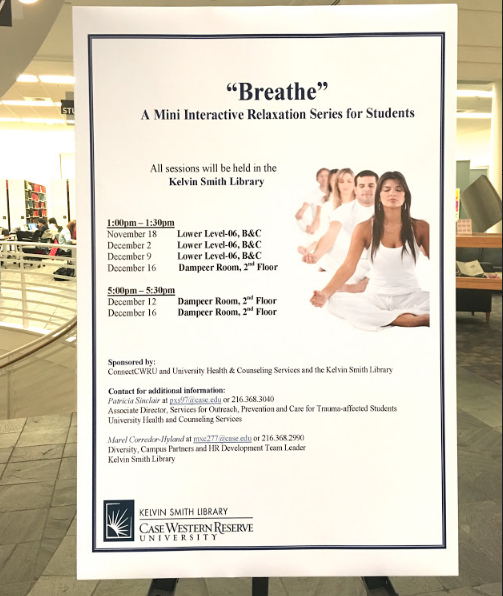 "Just breathe" is simply not advice professors give to their students before tests.
Beginning Nov. 18, University Health and Counseling Services (UHCS) and ConnectCWRU teamed up with Kelvin Smith Library (KSL) to offer students relaxation sessions at the library before and during the final exam weeks.
The sessions include twenty-five minutes of yoga exercises known as Sun Salutations, and five minutes of body-awareness techniques to increase student's perception of their own muscles. The yoga session is led by graduate student Megan Long and was developed by undergraduate student Aarshia Jain.
Associate Director of the Services for Outreach, Prevention and Care for Trauma-affected Students at UHCS, Patricia Sinclair began developing the program and lead an exploratory session earlier this semester.
"At Health and Counseling Services, we recognize the need to destress, using the connection between the mind and body, and the ability to function well academically and in social life," said Sinclair. "We wanted to bring to the students a way to do that. We wanted to take it out to students as a form of outreach."
Based of the test session, Sinclair saw the importance of having a scheduled time for students and a location that would be easy for students to access. She found herself in contact with Marel Corredor-Hyland, team leader for Human Resources Development at KSL. Corredor-Hyland suggested grouping resources and holding the sessions at KSL. Together, with Gail Resse, associate director of Public Engagement Services and Library Administration at KSL, they developed the program with Long and Jain.
"Historically students are more stressed during finals week with extra studying, researching and writing," said Marel. "Students take study breaks so the library provides various activities to help students manage and de-stress." In the past, KSL has brought students board games, crafts, video games, yoga sessions and therapy dogs for their study breaks. The breath sessions will expand this list of destress activities.
Sinclair recommended performing a daily breathing exercise and stressed the ability to focus on breathing. For the exercise, students should try to breathe 10 times, while attempting to focus on only the breaths. She explained that if the mind starts wandering, students should refocus on the sensation of breathing and start over.
"Anchor [the exercise] with something," Sinclair said. "When one wakes up in the morning, [it] is a good anchor. It's something that happens everyday. If you associate it with waking up or going to sleep you're more likely to remember."
Students are welcome to attend even if they are only able to come for a portion of the session. Future afternoon sessions are planned in KSL at 1 p.m. in Room 06 on the Lower Level on Dec. 2 and 9, and in the Dampeer Room on Dec. 16. Evening sessions will be held on Dec. 12 and 16 at 5 p.m. in the Dampeer Room.