Whether 'grabbing' or 'bagging,' lunch now without plastic bags
The typical beacon of a student's Grab It! or Bag It! lunch is the plastic bag. Due to over a year of efforts by the Student Sustainability Council (SSC), that has now changed.
On Wednesday, Oct. 21, Grab It! and Bag it! stopped offering plastic bags and students instead have had the option of using free reusable bags, distributed throughout October by the council. Those who haven't received one have the option of requesting one at 'gimmeabag@case.edu' or obtaining one on-site when SSC members are present.
SSC Chair Grace Cammarn saw mostly positive responses to the change, but did hear of some discontent.
"I think with anything like this, you only hear the negative comments," Cammarn said. "I think you see the happy responses, when you give them a bag."
Most students have appeared to either adopt the reusable bag or stop using bags at all. One student, when asking for a bag via email, closed their email with a compliment.
The student wrote, "Biodegradable hugs and kisses."
The blue bags come in a pouch that can be hooked onto a backpack, with drawstrings to compact the bag for storage. The bag itself has handles, similar to its plastic counterpart. On them are the logos of the sponsors, Bon Appétit, CaseOneCard, Tapingo and the Office of Sustainability. Cammarn said that students who request one would get them within a week.
The move to reusable bags came almost a year after the SSC polled students in the lunchroom. Of a total of two hundred sixteen students, 79 percent had a positive response to bags being removed from Grab It!.
Partially based on that response, the group decided to move forward with their plan to remove bags from Grab It!. Last fall, they worked with Bon Appétit to move the bags at Grab It! to the bar facing the windows where the microwaves were previously located. According to Cammarn, this forced students to weigh the benefits and costs of using a plastic bag. If it was worth them carrying their food over and grabbing a bag they would, but if they were going to sit down a short distance away, the students wouldn't.
In a previous estimate, the council had determined the 500 bags were used daily.
"The average usage of a plastic bag is 14 minutes, so to think that each of those 500 plastic bags were being manufactured just to be thrown out in 14 minutes didn't make sense," Assistant Director of the Office of Sustainability Erin Kollar said.
The council has also conducted stakeouts at Grab It! After moving the bags, the group saw that only 35 percent of students were grabbing bags. Cammarn noted the occasional angry comments during this stakeout about the bags being farther away.
Still, that number was a sharp contrast to the 95 percent bag usage they had seen at the beginning of the fall 2014 semester. Not simply tallying, Cammarn and other SSC members had taken to noting how students had been using bags. Often students would use the bag to move and sit down on nearby. She noted that the bags main use was to collect food items to throw in the trash. Seeing this and the results of their poll, they decided to move them.
The group will be observing bag use again later this semester to note the results of their work. Cammarn knows that sustainability can be controversial. She was aware of a similar campaign four years ago that students forced Bon Appétit to stop.
"The definition of sustainability, an integral part of it, is future generations," said Cammarn. "The idea is that you are not doing it for you. You are doing it for the good of the planet and future generations. It's not about that immediate satisfaction. It's about what's your future going to look like."
About the Writer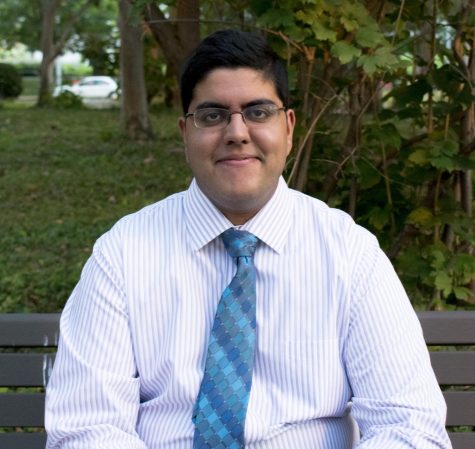 Kushagra Gupta, Director of Print
Kushagra Gupta is a cognitive science and biology student and is working towards a masters in medical physiology. He's served as The Observer's The Director...