Top 10 Cleveland concerts of 2015
In terms of concerts, Cleveland has become more and more on the map over the years. Bands that once avoided the city are now visiting for sold-out crowds, at venues small and large. Some of those venues have been Case Western Reserve University itself.
Just this past year, the concert scene has grown. Here are the top 10 concerts in Cleveland over the past year:
1. Glass Animals (June 15 at House of Blues Cleveland)
Glass Animals has this funny sort of jungle groove; it's not wild and crazy like one would expect, but euphoric and relaxing. Singer Dave Bayley's vibe was contagious and put the jam-packed crowd at House of Blues in a trance throughout the whole show.
2. Less than Jake/Reel Big Fish (Jan. 23 at House of Blues Cleveland)
It was like a large family gathering at the Less than Jake and Reel Big Fish show early this year. A semi-violent, full-of-fun family gathering, that is. These two ska bands had a ton of fun onstage, but nothing compared to the antics in the crowd.
3. The Dodos (Oct. 14 at Grog Shop)
Sure, they barely played anything off of their heartfelt album "Visiter," but The Dodos' show at Grog Shop gave the crowd a taste of their newest tunes just before the band ended its tour. The duo that makes up the Dodos gave a simple, but undeniably powerful concert.
4. Studio-a-Rama (Sept. 12 at CWRU)
WRUW FM 91.1's annual music festival Studio-a-Rama always deserves a spot on this list. Where else can you get the best of Cleveland's music scene all together on one small stage? Where else will Clevelanders still flock, despite the intermittent rain, every single year?
5.Walk the Moon/Griswolds (April 3 at House of Blues Cleveland)
If you don't like crowds, then you didn't like this show. But, if you were a long-time follower of the Ohio-based band Walk the Moon, you were probably geeking out the entire time. And taking selfies. Lots of selfies.
6. Brite Winter (Feb. 21 at Ohio City)
Little did we know that this would be the last time Brite Winter was held in Ohio City. It's good that it's moving to the Flats in the upcoming year, since overwhelming crowds were a little tricky to manage on icy streets. Seeing the growth of this fest is a beautiful thing, especially when it culminates in memories like the Modern Electric singing "David Bowie (Save Us All)" to hundreds of packed-in audience members.
7. Andrew McMahon in the Wilderness (Nov. 14 at House of Blues Cleveland)
This recent show at the House of Blues featured wildly different headliners: New Politics and Andrew McMahon in the Wilderness. One was punky and energetic, and the other was passionate and flowing. It captured the best of both worlds.
8. Zella Day, Seafair (Aug. 28 at Grog Shop)
Singer Zella Day's flower-child feels clashed with Seafair's more punk-rock set. But the female-led concert was crowd-pleasing and interesting.
9. RJD2 (Feb. 11 at Tinkham Veale University Center)
The RJD2 concert, co-hosted between University Program Board and WRUW FM 91.1, was a lot of fun, but not wholly what CWRU students expected. While it was meant to be a rave complete with glow stick freebies, the show in actuality ended up being more of a groovy evening.
10. Kodaline (Sept. 30 at House of Blues Cleveland)
Depressing but powerful, the Kodaline show at House of Blues impressed crowd members with singer Steve Garrigan's ability to play multiple instruments at once. Eventually, despite the sadness, the crowd was dancing and singing along.
About the Contributor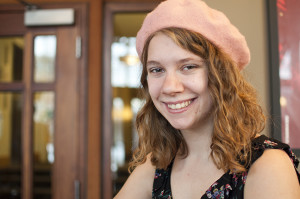 Anne Nickoloff, Director of Print
Anne Nickoloff, the Director of Print for The Observer, is a senior at Case Western. She hopes to one day be a music journalist, and has spent much of...